Black Lady
Say hello to Black Lady, Wicked Lady to those of you who have only seen the american dubbed version of Sailor Moon.

She was my first garage kit built in April of '05. She's made of a very hard, non-brittle resin. I ended up buying a dremel because of her. There were some major casting issues. Areas seemed to have been cast wrong with big "boogers" of resin in large areas. As if the person doing the casting just patched upa bad cast by pouring resin onto it. I did a ton of dremeling to try and thin out her pink shawl and some of the areas on her skirt.

Her earrings and little hair pieces by her ears were made with thin copper wire and beads. The luna Ball floating above her was sculpted from scratch. The whole thing was painted with Delta Ceramcoat acrylics and instead of a table top base she was attached to a wall mount that I painted in gold with the Black moon symbol and some random swirls. Persnoally I think she looks much better since she is sculpted as if she's floating.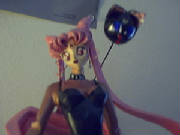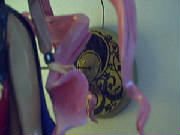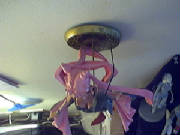 1/8 Urd
I'm rather pleased with how Urd turned out. I went all out with her display. There's real sand and shells used to make it seem more real. The umbrella was made by hand. The flower material is actually left over from what I made my wedding dress from.